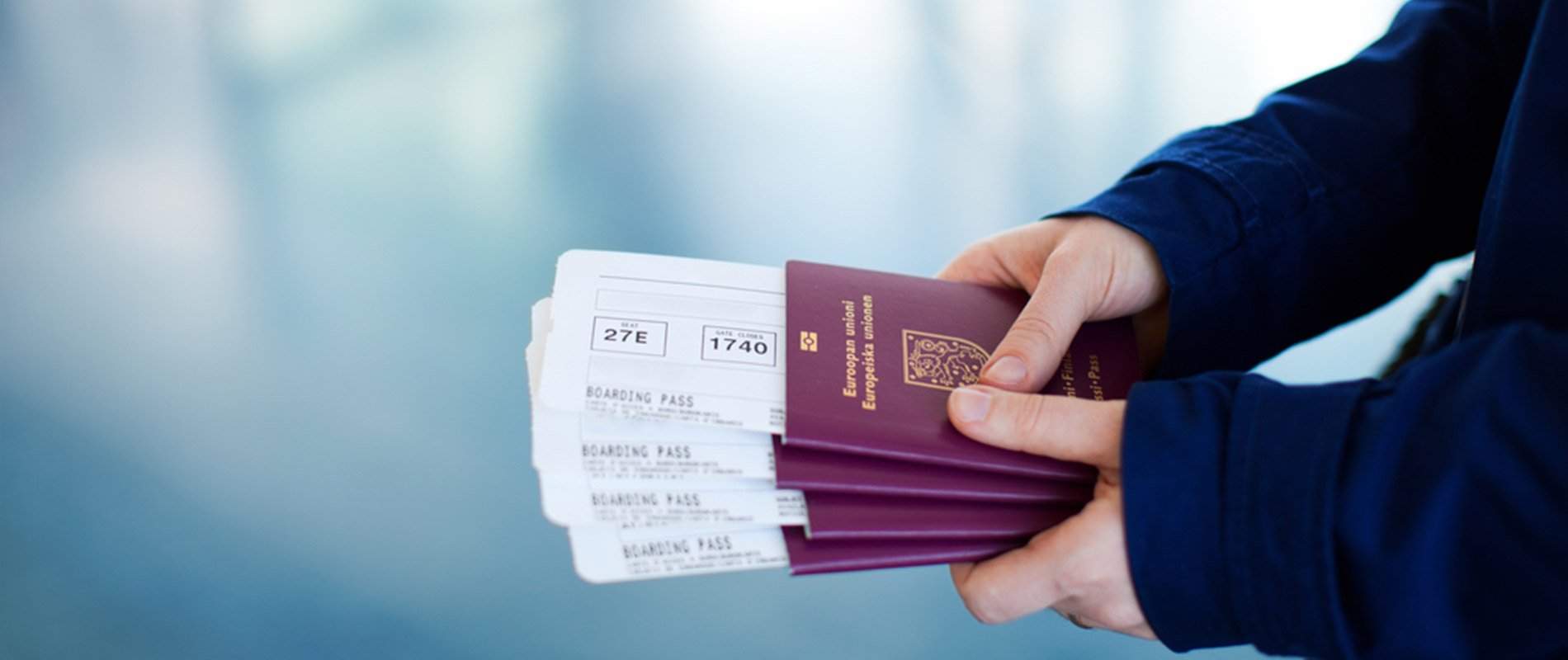 Documents needed
Travel documents – Passports, I.Ds, and Visas
International flights
When you are travelling on international flights, you must carry a passport or an equivalent travel document that is valid throughout your entire trip. Some countries require that the passport is valid for a minimum period beyond your trip, usually three or six months. Visit the IATA Travel Centre to check the passport validity requirements of your destination.
Children are also required to carry their own passports, even infants under 2 years old.
Furthermore, in many instances where a child is travelling with only one parent or guardian, the permission of the parent/guardian who is not travelling would be required. Authorities may refuse entry or forbid exit without such a document. In some cases, the airline will also receive a monetary fine, which we reserve the right to pass on to the originator.
Domestic or Schengen travel
If you are flying solely within Greece or the Schengen area, you normally do not need a passport but must carry your national identification card or equivalent, as authorized photographic i.d will be requested at certain points in your journey.
Visas and other entry requirements
Depending on your nationality and/or the purpose of your journey, in addition to your passport, you may be required to hold a valid visa or an equivalent form of authorisation for every country you enter as part of your journey — even if you are only connecting from one flight to another. It is important that you find out about visa rules and entry requirements that apply at your destination.
We recommend checking the IATA Travel Centre for free, accurate and up-to-date advice on visa requirements, entrance fees, passport and health requirements, customs, currency and airport information for your destination.
In most cases, if a visa is required, an application can be submitted through the embassy, consulate, or high commission of the destination country. We recommend visiting their website for more information. Your travel agent may also be able to assist in providing further information. It is your responsibility to ensure you have all valid travel documents and visas in place for your trip.
Visa guidelines for Kingdom of Saudi Arabia (please check with your local Embassy / Consulate / authorized Hajj and Umrah agent)
If you are a pilgrim
You must enter the Kingdom of Saudi Arabia (KSA) through Jeddah with a valid Hajj visa during the assigned Hajj pilgrimage travel period, or on an Umrah pilgrimage visa outside this period.
It is forbidden to:
travel for Hajj using an Umrah visa
travel for Umrah using a Hajj visa
enter, transfer or transit through Riyadh
travel outside of the official pilgrimage dates determined by the Saudi authorities each year
It is your responsibility to ensure you get the correct pilgrimage visa from a KSA Ministry of Hajj, approved Hajj or Umrah agent.
If you do not have the correct documentation, or have booked to travel outside the official pilgrimage dates, you will not be allowed to travel or be able to get a refund.
If you are not a pilgrim
If you are not Muslim, you can enter Jeddah or Riyadh at any time using a business or visit visa.
If you are Muslim, are using a business or visit visa during Hajj, or are travelling in the 6-week period up to and including Hajj, you must enter KSA through Riyadh.
If you are Muslim with a business or visit visa, you will need a Hajj visa to travel during the Hajj pilgrimage travel dates.